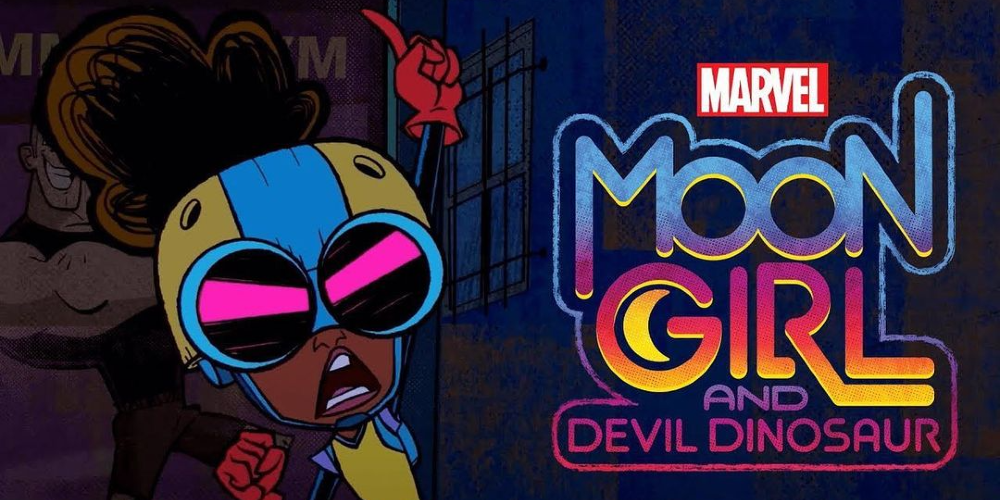 Marvel's Moon Girl and Devil Dinosaur is an upcoming animated series set to debut on the Disney Channel on February 10th. The show follows 13-year-old super-genius Lunella Lafayette (aka Moon Girl) and her 10-ton T-Rex as they battle evil forces in New York City's Lowest East Side. Fans have been eagerly awaiting the arrival of the series, and Marvel has just released a new trailer for it - giving us a glimpse at what to expect from this exciting new adventure.
The trailer gives us our first look at Graviton, the main villain of the show. He is a reimagined version of the classic Avengers villain that was introduced decades ago, and he appears to be more powerful than ever before. We also see some familiar faces, such as Diamond White, Fred Tatasciore, Alfre Woodard, Sasheer Zamata, Jermaine Fowler, and Gary Anthony Williams voicing characters throughout the series.
The show looks like it will be packed with action and humor - making for an entertaining viewing experience for viewers of all ages. It also ties into Marvel's larger universe by featuring several alternate realities within its storyline - including X-Men '97, which is also set to debut this year. This means fans can expect plenty of crossovers between characters from different shows, as well as some thrilling storylines involving mutants we already know and love!
All these projects take place within alternate realities within the MCU, so there's plenty to look forward to! We don't know exactly how events in each reality will unfold yet, but if the trailers are anything to go off, then things are sure going get really interesting really soon!
So if you haven't seen it yet, make sure you check out Marvel's Moon Girl & Devil Dinosaur trailer now - it looks like we're in for an exciting ride come February 10th when it hits Disney Channel, then again on February 15th when it comes to Disney+.
In Summary
Moon Girl and Devil Dinosaur promise to deliver all kinds of thrills when it hits Disney+ on February 15th after premiering on Disney Channel earlier that month! With its strong cast members lending their voices to memorable characters along with exciting battles between Lunella Lafayette & her T-Rex companion against Graviton & other villains - this show looks like one you won't want to miss out on!