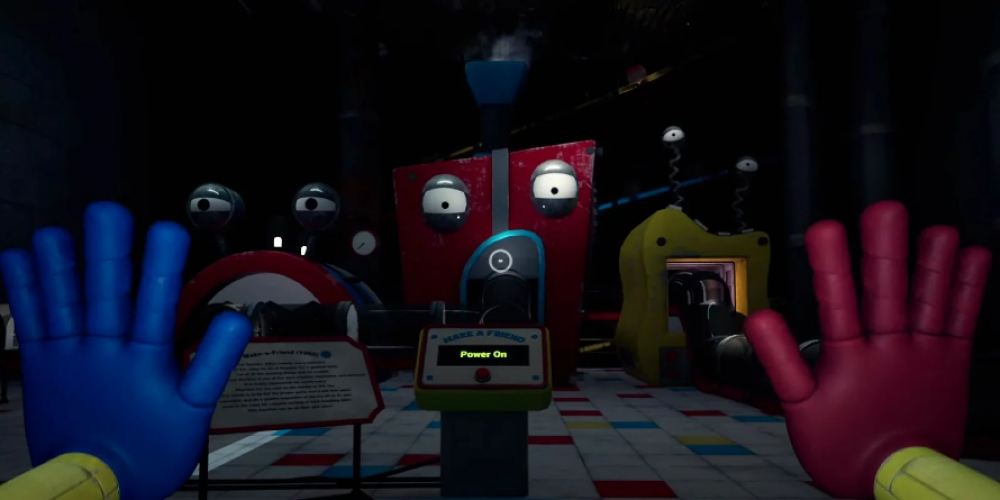 Spoiler Alert! If you want to solve the riddle in the Make-A-Friend room by yourself, you don't need to read this. This article is for players who want to go further in Poppy Playtime and want to learn more about the creepy Playtime Co. toy factory.
Even though this horror game came out only recently, Poppy Playtime quickly received positive reviews from players. The secret of its success is in the well-developed story full of horrors and our childhood nightmares where dolls and teddy bears become alive and want to kill you. Another riddle is where are all the employees of the factory? Ten years ago they suddenly disappeared, leaving only one ex-worker, which is you, to solve everything. Once you receive a mysterious letter with the news that the staff is still there, you decide to go there and investigate everything on your own.
Inside the plant, you have to face the giant mascot named Huggy Wuggy whose hugs are literally killing. All you have is GrabPack, the device with two artificial hands that can grab everything, turn on the light, and hit the enemy if you need it. The GrabPack is a must-have that you will find in the security room. Use it to restore the lobby's power and move forward.
Start the Make-A-Friend Device
Once you enter the room you will see the conveyor belt. Turn to the left and search for the staircase to the catwalk. One section of it is missing. Don't worry, you can replace it with the help of GrabPack, Pull out the other side of this section using the handle. You will find VHS tape of pink color on the right side of the missing section. Watch it using the pink VCR you may see on top of the stairs.
To activate the Make-A-Friend device you have to search for the fuse box at the end of the catwalk's first part. Grab it and weave between the pillars in the center. It will power the 2nd fuse box at the end of the catwalk. It activates the machine and you can see the "Power On" sign there. Give it several seconds to start after you hit the button. Watch three levers light up on the conveyor belt. You may activate them by using GrabPack again. Toy parts will be moving on a conveyor gathering in a toy. Once it is done, you can place it in the scanner and unlock the door.
Poppy Playtime Unique Approach
If you have not played this game yet, you have to check this game. It is only the first part, but developers promise to release the second next year. There are lots of mysteries you have to solve and dangers to escape. If you have played the game before, share your impressions in the comments below. How do you like this horror game?